It's a Wrap for the TWITs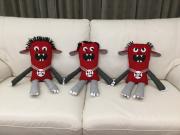 Eighteen teams met for the last of six rounds of the 2019 TWITs (The Waikato Interclub Teams) on Friday 23rd of August. The six Open teams had completed a double round-robin over the preceding five outings and the Intermediate/Junior section of ten teams a single round-robin plus a filler last month.
The Hamilton Intermediate team Cinders which was comprised principally of Karen Thomson, Kim Thompson, Roger Gunning, and Ian Ross with three or four ring-ins over the season had held Indie TWIT hostage for the whole season. They were so far in front that we promoted them to the Open section for the last night so we could run a Multiple Teams event. They even came third in that session.
Junior TWIT was taken home by the Te Aroha club's Juniors. Although one of the smaller clubs in the region and certainly the most far-flung, Te Aroha had fielded teams in all three grades for the whole six sessions. The nucleus of their Juniors was Peter Daffurn, Victor Kooter, Beth Kingsley, Rochelle van Heuven and Guy Kalma. Being stretched for attendees at times, the list of subs was quite long.
And Oscar TWIT remains in Hamilton having escaped but twice over the six sessions to Waikato. Their team was called Archie's Slaves and was mostly comprised of Barry Jones, Jenny Millington, Cherie Barton and Dallas Dagg.
Over the season the five Intermediate teams played in the same section as the five Juniors. The Juniors were allowed an 8-IMP handicap advantage in each match ... which seemed to work well. On the final night we doubled the VP score so that a maximum of 40 VPs was possible .. the same as every other night when we played two 12-board matches. A summary of results is attached. Highlighted cells represent the teams that took a TWIT home for that month.
Many thanks to those who supported this event. A survey revealed that peoples' favourite aspects of the TWITs were meeting and playing against new faces, and partaking of the wine & cheese suppers. We hope to see you all again next year.